The NFC North has vastly improved its quarterback play as a whole over the years.
With Aaron Rodgers, Matthew Stafford, Jay Cutler and Christian Ponder atop the depth chart of their respective teams, could they be the best group in the league?
The other divisions that could have the best group of quarterbacks are the NFC South, NFC East and AFC West.
The NFC North has to be on top of the list, with the NFC South being a very close second.
Drew Brees, Matt Ryan, Cam Newton and Josh Freeman have a lot of talent. But does the NFC South scare you as much as the NFC North does?
Aaron Rodgers is just as good as Drew Brees, if not better, considering where he is at in his career. Matthew Stafford proved he can stay healthy last season and performed on the same level as Matt Ryan.
Jay Cutler has always had talent, he just needs weapons around him. He is a more elite passer than Cam Newton at this point of his career. Lastly, Christian Ponder has added 20 lbs of muscle this off-season and has more potential in my mind than Josh Freeman.
Lets go in depth now at comparing the quarterbacks from the NFC North and NFC South head to head.
Aaron Rodgers (Packers) vs. Drew Brees (Saints)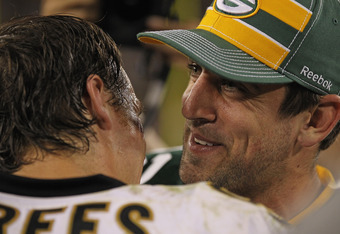 Rodgers' 2011 stats: 15 starts, 122.5 QB Rating, 68.3 completion percentage, 4,643 yards passing, 45 touchdowns, 6 interceptions and three rushing touchdowns.
Brees' 2011 stats: 16 starts, 110.6 QB Rating, 71.2 completion percentage, 5.476 yards passing, 46 touchdowns, 14 interceptions and one rushing touchdown.
Both have won Super Bowls in the past three years. They are the No. 1 and No. 2 quarterbacks in fantasy football. Both have elite receivers and passing-minded coaches surrounding them.
Rodgers gets the nod over Brees in matchup No. 1.
Rodgers > Brees
Matthew Stafford (Lions) vs. Matt Ryan (Falcons)
Stafford's 2011 stats: 16 starts, 97.2 QB Rating, 63.5 completion percentage, 5,038 yards passing, 41 touchdowns, 16 interceptions.
Ryan's 2011 stats: 16 starts, 92.2 QB Rating, 61.3 completion percentage, 4,177 yards passing, 29 touchdowns, 12 interceptions, two rushing touchdowns.
Stafford finally had a breakout season last year with stud WR Calvin Johnson putting up ridiculous numbers. It remains to be seen if he can stay healthy from year to year.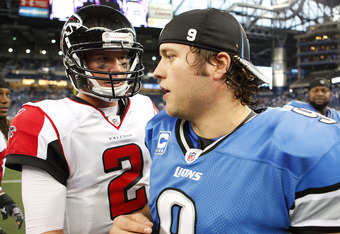 Ryan, on the other hand, has been as steady as they come since arriving in the NFL in 2008 out of Boston College. He is only going to get better, and his arm is actually stronger this offseason according to reports from the Atlanta Journal-Constitution.
Based on the consistency of Ryan and his early success in the league, he gets the edge in matchup No. 2.
Ryan > Stafford
Jay Cutler (Bears) vs. Cam Newton (Panthers)
Cutler's 2011 stats: 10 starts, 85.7 QB Rating, 58.0 completion percentage, 2,319 yards passing, 13 touchdowns, seven interceptions, one rushing touchdown.
Newton's 2011 stats: 16 starts, 84.5 QB Rating, 60.0 completion percentage, 4,051 yards passing, 21 touchdowns, 17 interceptions, 14 rushing touchdowns.
Cutler was on fire during the Bears' five-game winning streak that spanned from Week 6 in Minnesota to Week 11 in San Diego. Unfortunately, Cutler suffered a season-ending thumb injury in the win over San Diego.
Newton took over under center from day one in Carolina. He did a solid job for a rookie quarterback with a below-average receiving corps. Look for Newton to take that next step this year.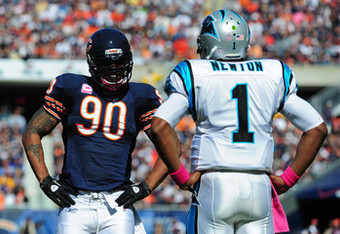 Cutler gets the edge here because he has shown more ability as a passer. Also, the fact that Brandon Marshall is reunited with him could propel him into the top-10 list of quarterbacks.
Cutler > Newton
Christian Ponder (Vikings) vs. Josh Freeman (Bucs)
Ponder's 2011 stats: 11 starts, 70.3 QB Rating, 54.3 completion percentage, 1,853 yards passing, 13 touchdowns, 13 interceptions.
Freeman's 2011 stats: 15 starts, 74.6 QB Rating, 62.8 completion percentage, 3,592 yards passing, 16 touchdowns, 22 interceptions, four rushing touchdowns.
Ponder took over the reigns in Week 7 after Donovan McNabb showed he couldn't lead the Vikings anymore. Ponder posted a QB rating of 70.3 while throwing as many touchdowns as interceptions (13) in 11 starts. Can Ponder take that next step heading into his second season as Minnesota's quarterback?
Freeman had a great sophomore season, but he really struggled last season. He needs to relax in the pocket and take his time with throws. He's lost some weight and is looking to regain his 2010 form. The Bucs might not have enough weapons for him to help him overcome his issues.
Ponder gets the edge over Freeman simply because the Vikings have a better offense and Ponder could play better with a full offseason under his belt.
Ponder > Freeman
Thoughts?
Jake Perper is the owner and head writer for Bearsbacker.com. Follow him on Twitter, @Bearsbacker and on Facebook for up to the minute news about the Bears.